The right bushing material can increase the life of the Guided Keepers in your stamping die assemblies and maintain accuracy during production. Learn the material differences between bushings and how to select the best bushing option for your application.
Guided Keeper Bushing Types
There are two primary material types of bushings available:
PTFE / Bronze (TB)
Bronze / Graphite Plugged (BP)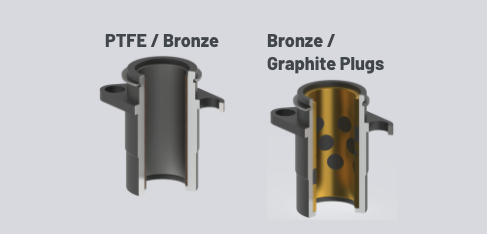 For most applications, experience has shown our TB bushings deliver excellent performance; with their combination of proven robustness and long life, they are a very cost-effective and durable choice. For higher demand applications where minimizing movement is extra critical, BP bushings offer an excellent alternate solution.
Benefits of PTFE / Bronze (TB) Bushings
PTFE / Bronze material bushings are still the industry standard and our best seller. Since 2005 our TB bushings have consistently proven to be a winner, offering robust and repeatable pad and lifter guidance over the life of a die. They've become the industry standard with less than 3% replaced per year.
TB Bushings are an excellent choice for most pad and lifter applications and pair nicely with our in pad-mounted Pilot Assemblies. Depending on your application, you may find a mix of Guided Keepers with BP and TB bushings is the right combination.
Benefits of Bronze / Graphite Plugged (BP) Bushings
Bronze / Graphite material bushings are an excellent choice in high demand applications where the amount of movement in the pad or lifter needs to remain tighter for longer.
Specific applications when a Bronze / Graphite Plugged (BP) bushing is recommended:
When Guided Keepers are in-line with each other, such as on lifter rails, especially those with high travel.

When Guided Keepers are on narrow pads that force the same linear Guided Keeper placement.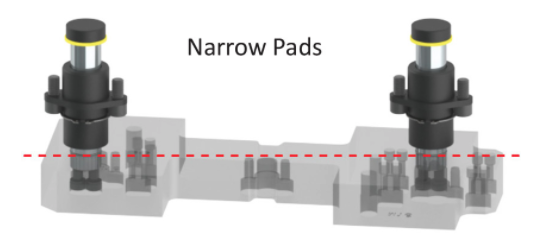 When more operating precision is required, such as on pads for thin stock.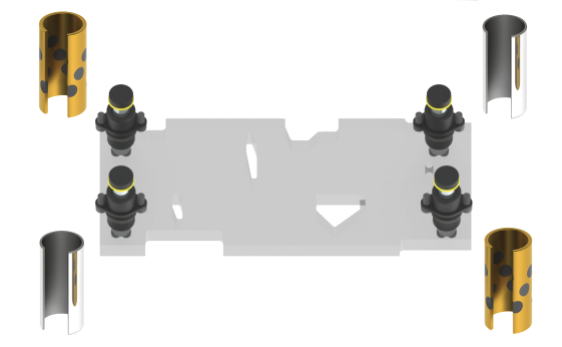 How to Select the Best Guided Keeper Bushing Material
Applications with a normal demand
New, properly sized TB bushings are the perfect choice for long life, robustness and cost savings. You can rely on a couple of key advantages. One is the 15-year history of proven performance by TB bushings in many different production situations. Another is our innovative development of longer bushings and the many ways you can use our versatile new N style base to get the most out of that extra length.
Applications with a higher demand
A solid first recommendation, and the most economical to consider, is a TB bushing in the longest length available. Our new BP bushing option has advantages in high demand applications where the amount of movement in the pad or lifter needs to remain tighter longer.
Consider die assembly costs
Assembly design, time, labor, and cost are factors to consider when choosing between guide pin materials.
In assembly, Guided Keepers with TB bushings tend to be more forgiving of variations in machining tolerances between the shoe and pad than BP bushings. Both bushing styles use the same "N" base housing and footprint. This allows for interchangeability of either bushing style in tryout or production in the event that it could help address die conditions that were unforeseen in the design stage.
Choosing the right Guided Keeper bushing material is one more way you can improve uptime and accuracy in your dies. Interested in learning more about improving Guided Keeper life and precision with the right bushing material?
Have additional questions? Contact Standard Lifters today to learn more about the best bushing materials for your die applications.